Every spring the snow melts away, weather is changing, and the varmints which plagued you last year are out, yet again.  The only question you should ask, am i prepared?
There are lots of varmints out there, and having the right firearm to deal with them is essential.
Savage, Remington, Browning, Weatherby, Winchester etc…There are so many brands and variations out on the market, they seem so similar, how do you make a decision?
Well, identifying the caliber is the first key step before making any decision on which make or model of firearms to choose.
Caliber in the past 10 years have stayed constant for the most part, especially the terms of varmint calibers:
Main calibers include:  204, 223/5.56, 243, 270, 308, 30-06, 22-250
Majority of the manufactures make firearms in each of these key calibers
Once the decision is made on the caliber, the next feat is going to be choosing which firearm suits your needs the best.  That is in terms of features, weight, design and feel
We here at Pekin Gun, sell all different varieties of these rifles, and have came to consensus on which models sell the best and have the best feedback
Here is what we found out:
*Savage Axis II*  Weaver Scope Included, Fully Adjustable Acu-Trigger, Free Float Barrel, Detachable Magazine, Lightweight
Calibers:  223/5.56, 243, 270, 308, 30-06, 22-250 (Mainly)  Cost $419.99

*Savage 11 Trophy"  Nikon Scope Included(BDC Reticle), Fully Adjustable Acu-Trigger, Free Float Barrel, Detachable Magazine, Lightweight
Calibers: 204, 223/5.56, 243, 270, 308, 30-06, 22-250 (Mainly)  Cost $529.99

*Remington 700 SPS Varmint*  Fully Adjustable Trigger, Free Float Heavy Barrel, Contour Stock, Optic Ready
Calibers: 204, 223/5.56, 243, 308, 22-250 (Mainly)  Cost $639.99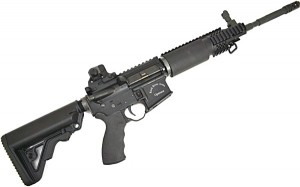 *AR-15 Platform Rifles* Full Customizable, Heavy or lightweight Barrels, Fixed/Collapsible Stock, SS or Black Barrel + So much more
Calibers: 223, 308 (Mainly)     Cost $550 to $5000
There are going to be other great options, but these 4 seem to be are greatest sellers along with having some of the best feedback

Now let's focus on the Caliber aspect of the rifle:

204 (Newest of the rounds mentioned)
*Great for small varmint (ie Prarie dogs)
*Average FPS 3937
(32gr to 40gr Common Bullet Weights)

223/5.56(Most Common and Most Popular)
*Great for small varmint (ie Coyote or smaller)
*Average FPS 3148
(40gr to 62gr Common Varmint Weights)

22-250("Supercharged 223")
*Great for small varmint (ie coyote or smaller)
*Oversized casing compared to 223/5.56, High Powder Charge, Higher FPS
*Average FPS 3687
(40gr to 55gr common varmint weights)

243(Versitile Varmint + Deer Cartridge)
*Great for all size varmints as well as deer
*Average FPS 3178
(58gr to 100gr common bullet weights)

270(Varmint/Deer)
*Excellet choice for any size varmint as well as deer
*Average FPS 2814
(130gr to 150gr common bullet weights)

30-06(Varmint/Deer/Elk)
*Great for larger varmints as well as Deer/Elk/Moose
*Average FPS 2816
(150gr to 180gr common bullet weights)

308(Varmint/Deer)
*Great for larger varmints as well as deer
*Average fps 2682
(150gr to 180gr common bullet weights)
Every Caliber is going to have its advantage, but which caliber has the best advantage to you?  Look and compare each caliber to find the one that will suit you need the best
 
Remember this is just a basic tutorial on varmint calibers and rifles, you might say a jumping off point.  There are more exotic versions of these rifles offered by most companies. 

Features such as:
*Wood Furniture
*Polished Blue/SS Finishes
*Exotic Stocks
*Custom Muzzle Breaks
*Monte Carlo Stock
*Glass Bedding
*Hand Engraving

Explore the manufactures website if this interests you, or just to compare each model and the features each one has to offer:
 
Savage
Remington
Winchester
Browning
Ruger
Weatherby